12th Aug – 11th Oct
The Mall Wood Green is proud to present an exhibition of the S.M.I.L.E-ing Boys Project in association with artist Kay Rufai and the Godwin Lawson Foundation. Featuring portraits and artworks created in collaboration with local boys, you will find the exhibition on the Upper Mall surrounding the staircase. The photographs and artwork were created over an 8-week period during lockdown with students from Woodside High School in Wood Green.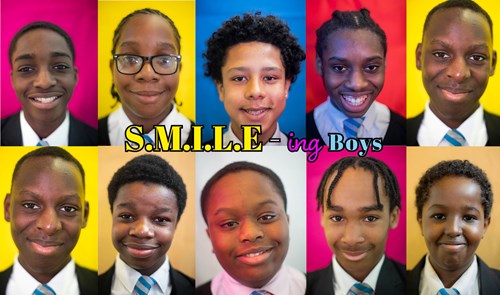 The ongoing partnership between the S.M.I.L.E-ing Boys Project and The Mall Wood Green will bring you exhibitions, community events and film screenings around the themes explored in the S.M.I.L.E-ing Boys Project.
About the Project
The S.M.I.L.E-ing Boys Project was created as a direct response to the rise in youth stabbings (1,299 in London between April 2017 and April 2018) which sparked a series of reactionary approaches from the government regarding tougher criminalisation of youth, more stop and searches and greater police presence in minority communities.
These approaches inspired artist Kay Rufai to explore the often-neglected public health approach, which required investigating the mental health provisions, or lack thereof, for the demographic in question – overwhelmingly, black youth.
Kay held a series of 8-week long workshops with over 300 Black boys from eight London boroughs, the artistic outcomes of which were curated into a multimedia exhibition at City Hall, Battersea Arts Centre, Brixton Village, and now The Mall Wood Green. They include photography, creative writing, films, installations, and a poetry album – Boy and A Bike (Miseducation of Black Youth) – which was written by Kay as a self-therapeutic response to the honest discussions which were held in the classrooms.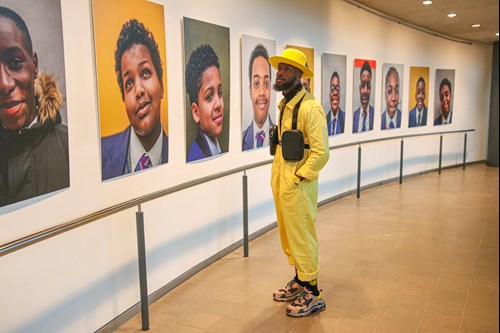 About the Artist
Kay Adekunle Rufai is a Photographer, Poet, Filmmaker, Mental Health Researcher, and the first national Artist in Residence for the West Midlands Police. His work spans the past 5 years in countries including the UK, USA, Ethiopia, Bhutan, Germany, Scandinavia, Mexico, Nigeria and Colombia.
He has spent the past 3 years exploring public health approaches to violence reduction, Mental Health, Masculinity and community cohesion through art, photography, educational workshops and public speaking.
His work has directly engaged diverse communities, minority groups, incarcerated young people, gang members, refugee and displaced groups of people as well as collaboratively creating bodies of work with them.
His current projects include: S.M.I.L.E-ING BOYS PROJECT, S.M.I.L.E & T.R.I.BE
universoulartist.com/smiling-boys-project/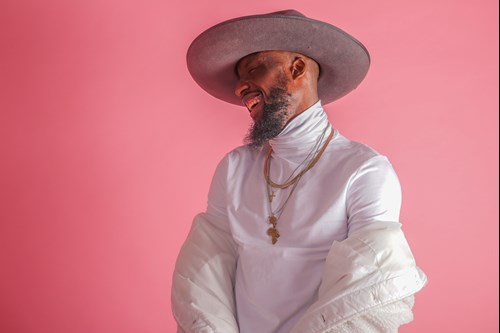 About the Godwin Lawson Foundation
This exhibition is being held in support of the Godwin Lawson Foundation, The Mall Wood Green's Charity of the Year. The Godwin Lawson Foundation (GLF) is a registered charity founded in 2012 by Yvonne and Calvin Lawson to commemorate the life of their son, Godwin Lawson. Godwin was stabbed in the street in Stamford Hill, trying to prevent two of his old school friends from being attacked by four young men. He was just 17.
Following his tragic death, Yvonne began researching gangs and knife crime. Shocked by its scale and impact, she became determined that Godwin's legacy should be something to help keep young people safe, and prevent other families having to go through the pain and loss that hers had suffered.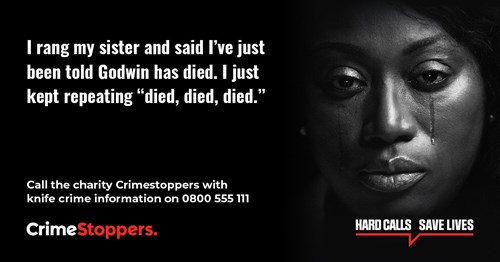 The GLF's aim is to reduce gun and knife crime by encouraging young people to identify their talents and fulfil their potential through providing positive opportunities so that they can avoid gang life and develop their capabilities as members of a tolerant society.
The Godwin Lawson Foundation is a registered charity. Our entire program is financed by some small grants and the generosity of individual supporters. We understand not everyone is able to make a financial donation, but you can still show your support by helping us spread the word on social media and letting your friends know you stand against knife crime. And if you can afford to make a small donation, then we would greatly appreciate that too.
Find out more and donate at godwinlawsonfoundation.org